1. Uniqueness Issuance and Validation Services
With the fast development of mobile Internet and Internet of Things today, the market is pressed for confirmation of the " uniqueness" of goods, people and scenarios, so that applications and services can be available conveniently, quickly and safely. Based on the RFID chip with PUF technology (providing links to PUF introductions), Fudan Microelectronics Group Co., Ltd. has developed the system and service of "Uniqueness Issuance and Validation". Now it has been applied in anti-counterfeiting tracking of authentic products, identity recognition, special equipment identification and so on. Partners worldwide are being sought after.
The Company can provide partners with the cloud service required to realize "Uniqueness Validation" for the business system—Uniqueness Issuance and Validation Services. The services have the following characteristics: High-intensity unique identifier: RFID tag with PUF technology as the unique identifier, which is based on physical uniqueness and cannot be replicated even by the Company itself.
High security level system: The system consists of a financial-level key system, a high security level hardware encryption machine, a high-intensity random number generation mechanism certified by authoritative institutions, and an international algorithm compliant with ISO standards.
Trusted credentials: collection of PUF data, issuance of unique identifier, and validation of unique identifier. Digital signature and other technologies are used in the whole process to ensure that the process is credible and well documented.
Easy and fast access service: By easy development, partners can establish a secure connection and quickly access the services.
2. UIVS Cases:
(1) Original American Red Wine Sold Directly to China:
Gliding Eagle is a company focusing on global trade systems and data services, providing export and logistics services to more than 100 wineries in nearly 20 countries across three continents.
PBOC2.0 E-Wallet/Bankbook standards of Bank Card Testing Center
(2) Unique Identifier for Animal Competition
In the pigeon competitions held in China, a foot ring with the unique identifier of "UIVS" is worn by each pigeon. During the raising, training, gathering and racing of pigeons, the relevant data corresponds to the unique foot ring, so as to maintain the fairness of the competition and prevent cheating.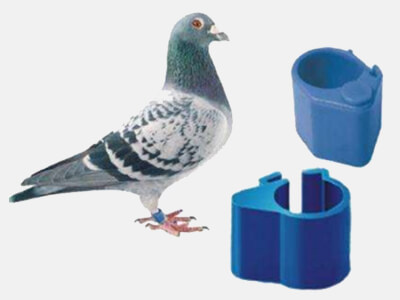 In the field of culture and artwork, "UIVS" unique identifier is used as the identity of master-level artists. Artists themselves can issue a "UIVS" unique identifier certificate for their works to protect their intellectual property rights, or evaluate and recommend the works of their disciples based on "UIVS" unique identifier.